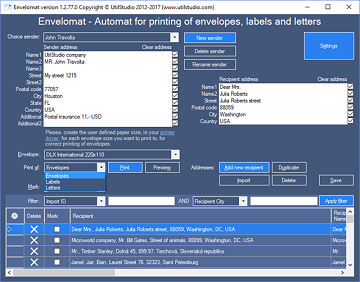 Envelopes, labels and letters printing
software with using of filtered address book
Envelomat is a printing software to printing envelopes, labels or letters with using filtered address book including additional database fields. It contains printing templates for envelopes, labels or letters - all of various sizes, for printing addresses in USA or international formats. The software contains a graphical designer. Software allows to import addresses from various input file formats: XML files (*.XML), CSV files (*.CSV, Excel), TXT files (*.TXT), DBase files (*.DBF), Firebird database (*.FDB), Microsoft SQL database (*.MDF), Microsoft Access database (*.MDA), Interbase (*.GDB), Paradox files (*.db). Envelomat is based on safe Firebird transactional database, allowing the local and remote (network or internet) connection.

Download
No credit card, no registration is required.
Features & Specs
Address book with filtering

The address book has no limitation on the number of records. You have a possibility to import addresses from various types of files or directly from data stored in an SQL Server database.
Professional database

Envelomat safely stores your data via a reliable and powerful database Firebird SQL. SQL Server works effectively on both local or networked computers.
Compatible with Windows ® Envelomat is fully compatible with Windows 10, Windows 8, Windows 7, Windows Vista and Windows XP (SP3)